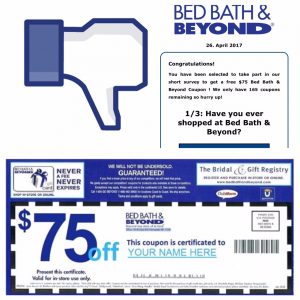 In 2015, The TODAY Show contacted me regarding a similar article I wrote about a Publix & Aldi hoax coupon offer being shared around on Facebook. They quoted me in their Money section. I was honored and humbled to have them recognize me and my company. I appreciated our advice being sought after with regards to my coupon etiquette and consumer advocacy advice.
Unfortunately, believe it or not – still today we still have more hoaxes that people with Facebook accounts are falling for. Hopefully you will have a better understanding of this hoax after reading this and not fall for this hoax.
---
One evening, I quickly noticed a few friends on Facebook had shared a link containing fraudulent coupons for $75 off at Bed Bath & Beyond.
Fake Survey: There was a hoax going around where if you click on a link being posted on Facebook by many of your Facebook friends, it will take you to a fake survey.
Hoax: Once you complete the survey, you will earn a $75 Bed Bath & Beyond coupon off of your next purchase. It sounds great but don't fall for this. This is an obvious hoax!!!
Is your Personal Information in Jeopardy? When you click on the hoax link on Facebook, you think you are about to take a survey. After they collect your answers, your personal information from your computer could be collected and in return they send you a hoax coupon for you to share/post on your Facebook page for others to see it and for them to do potentially fall for the same hoax.
By the way, it was NOT Bed Bath & Beyond's fault either! They are the victim as well. Think of how many people, will wind up bringing this to their local Bed Bath & Beyond store and expect to obtain this $75 discount. Think of how many times they have to go over this each time another person brings this coupon to their stores.
Do NOT expect Bed Bath & Beyond to accept this coupon.
Fake Websites Tipped Also Me Off: Something that tipped me off outside of the obvious value amount involved also included looking at some of the websites under the posts from my Facebook friends that had fake websites.
Here are some of the website examples of this hoax I have seen. THIS IS ONLY FOR INSTRUCTIONAL PURPOSES – PLEASE DO NOT CLICK ON THISE LINKS: bedbathandbeyond.com-gfx.com, bedbathandbeyond.com-webpromo.us and bedbathandbeyond.com-guaranteed.us. Don't fall for this hoax. You might wind up receiving a lot of spammers contacting you for credit card applications and magazine subscriptions.
I am taking an educated guess that Bed Bath & Beyond will address this as a company in the next few days and convey this internally to their respective stores for their staff members (managers, customer service and cashiers) to be made aware of this fraudulent coupon. UPDATE: Bed Bath & Beyond has addressed this issue on their facebook page. Click here to see their response.
Being a life-long expert couponer and consumer advocate, the smell test definitely smells like this is a fraudulent coupon and you should be aware of this scam. Again, do not expect Bed Bath & Beyond to accept this coupon. This is just too good to be true as it is.
Please post this article on your Facebook page so your Facebook friends will see this. You will help them by not falling for this hoax by clicking on the hoax link and having it shared automatically on their Facebook page.
In the past from other hoax coupons being passed around on Facebook, the Better Business Bureau has urged consumers to be aware and do their research when signing up for offers online. Some warning signs the Better Business Bureau has conveyed in the past is to look out for offers that seem "too good to be true" or businesses asking for credit card information as part of a survey.
ANOTHER UPDATE: Bed Bath & Beyond has worked with Facebook to have the coupons removed; however, this has and will continue to happen again with various different retail store, supermarket and restaurant based coupons.
So if you come across a coupon or an offer that seems too good to be true and suspect it to be fraudulent, do everyone including yourself a favor — report it to Facebook.
If you click on one of these pages then you should exit the page. I'd go the extra step of signing out and signing back in to make sure you and your privacy along with your Facebook page are in tact and secure.
Providing your personal information to a malicious site could put you at risk for identity theft, so always be cautious online.
Just below, select the options to share this on your Facebook, Twitter, Pinterest and Google+ pages. Alert your family, friends and business colleagues know about these fraudulent Bed Bath & Beyond $75 coupon offers on Facebook. They are a hoax! This can and probably will happen with other offers in the future as well. 
Remember, if it's too good to be true, it probably is! 😉
This post may contain references to products and/or services from one or more of our advertisers. We may receive compensation when you click on links to those products and/or services. Click here for more information.