The TODAY Show reached out to us and quoted us regarding this article in their Money section. We are honored and humbled to have them recognize us. We appreciate our advice being sought after with regards to coupon etiquette and consumer advocacy. Hopefully you will have a better understanding of this hoax after reading this.
---
A while back, I noticed a few friends on Facebook sharing a potential hoax post going around on Facebook that involves coupons for Publix. There was a hoax going around where if you share a link on Facebook and also make a comment about it, it offers you a coupon from Publix for $100 off of your purchase of $120 or more.
Being a life-long couponer and an expert couponer, I had a strong feeling this is a fraudulent coupon and you should be aware of this scam. Do not expect Publix to accept this coupon. This is just too good to be true as it is.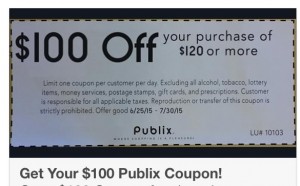 I wanted to go the extra step being a consumer advocate so I just did a quick online search and found there was another scam with Aldi coupons for the same price. Both the Aldi and Publix coupons were both worth the same value and both expired at the end of that same month.
Watch the video below and be on alert for these types of hoaxes. Whether it be with Aldi, Publix or other well known supermarket or retailer coupons on Facebook and other social media sites too.
Something that tipped me off outside of the obvious value amounts involved also included looking at some of the websites under the posts from my Facebook friends that had fake websites. Don't fall for these types of hoaxes. You may wind up receiving a lot of spammers contacting you for credit card applications and magazine subscriptions.
From what I learned, the Better Business Bureau has urged consumers to be aware and do their research when signing up for offers online. Some warning signs the BBB says to look out for are offers that seem "too good to be true" or businesses asking for credit card information as part of a survey. Providing your personal information to a malicious site could put you at risk for identity theft, so always be cautious online.
Please share this information on your Facebook and Twitter accounts and let your family and friends know about these Publix & Aldi $100 off coupon offers on Facebook being a hoax.
Remember, if it's too good to be true, it probably is! 😉
This post may contain references to products and/or services from one or more of our advertisers. We may receive compensation when you click on links to those products and/or services. Click here for more information.