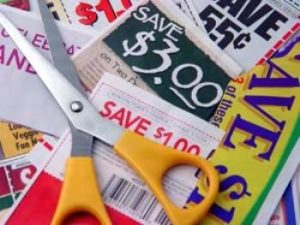 Are you new to couponing or has it been a while since you have couponed? Need to update yourself with couponing lingo? No problem, I'm here to help you!
I created a list of coupon abbreviations and definitions you might see from myself or other couponing experts who explain how to score discounts by using coupons and use other money saving techniques with our Couponing Lingo 101: Abbreviations & Definitions.
COUPON LINGO 101: ABBREVIATIONS & DEFINITIONS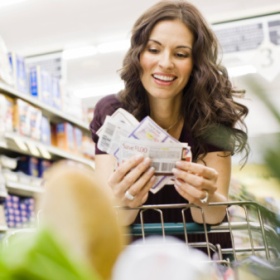 $1/1: One dollar off one product. Usually shown on a coupon or referred to when mentioning a sale price item.
$1/2: One dollar off when you buy two products. You have to purchase 2 items. If you buy two items, you can use that one coupon. Again, this is usually shown on a coupon or referred to when mentioning a sale price item.
B1G1: Buy 1 Item Get 1 — for a certain discount (could be FREE, half price, 25% off, etc.).
Blinkies: A small box that has been attached to the edge of the shelf next to a particular product in the grocery isles next to a product which dispenses coupons on the spot for you. Sometimes all you have to do is wave your hand in front of it to trigger a coupon to be generated for you. Most of the time it does that automatically for you. Another manufacturer incentive to get you to purchase their product(s) using a coupon visually next to an item.
BOGO: Buy One Item Get A Second Item Off — for a certain discount (could be FREE, half price, 25% off, etc.).
BOGO FREE: Buy One Item Get A Second Item Off — for FREE
CAT or Catalina Coupon: Printed coupon at the time of purchase by a separate machine next to the register. Catalina coupon machines located at registers. They print out long receipt-like coupons. These can be used on future purchases. Catalinas refer to the coupons themselves. It could be either a manufacturer or store coupon. Some Catalina coupons are advertised. Some are generated based on consumer behavior.
CC: These are "Competitor Coupons"
Circular: Is a weekly or monthly ad released by stores to let customers know of their current sales. Use our "Weekly Circular Center" which is an online center where we place most of the common store circulars all in one place for you to see what's on sale during a routine basis.
Coupon: Usually a paper item that you can print or cut out and redeem at your local participating stores. It can be either a store coupon and/or a manufacturer coupon. Many establishments allow you to use both one store coupon and one manufacturer coupon. This enables you to save additional money on your purchase. This is a huge discount to the beholder of the coupon and is considered a discount towards the total form of consumer payment.
Couponer: A consumer who collects and saves coupons to redeem them on products, such as groceries, pet food, and toiletries at their local participating stores. Can also be supermarkets and even occassionally restaurants.
Couponing: The art of redeeming discount store &/or manufacturer coupons in order to save money.
Coupon Insert: These are coupons that are inserted in your Sunday newspaper. I personally recommend buying multiple Sunday newspapers to obtain your coupon inserts. The more access you have to coupon inserts, the better the chance you can save additional money during your supermarket and staple item shopping. Read more about our write-up on "Some Very Basic ABC's of Couponing." We list the first item about newspaper inserts and buying two newspapers to multiply your savings.
CRT: Cash Register Tape. These are coupons that prints in store at the register after making your purchase.
Cuckoo: This is considered a great deal because it's so "cuckoo" (crazy) that you should take advantage of this by stocking up on this item because it's listed at such a great price.
Dead: Offer is no longer valid. Expired.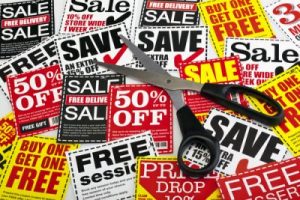 DND or Do Not Double: It's a communication tool and notification from the manufacturer to the store the coupon is being redeemed at confirming retailer the manufacturer will not reimburse for any greater value than that of the coupon. A store may or may not double your coupon that reads "do not double" as part of a store doubling promotion. The wording is there to protect the manufacturer. It's protecting their interest. If the store wants to double the coupon, that's their option but they have no incentive to do so thus it's unlikely you will receive double couponing options on such coupon if DND or DO NOT DOUBLE is listed).
Double Coupons: Only certain stores will double a coupon. When a store "doubles a coupon", the store still only gets refunded the value of the coupon from the manufacturer. They take the extra amount they doubled out of their own pockets, as an advertising expense. Quite honestly, I have rarely seen this done in the South Florida region. Other parts of the United States this may be more customary. It doesn't hurt to ask the store manager if they double coupon and what their policy is on that. You can also go to some store sites to confirm policy on "Double Couopning".
E-Coupons: If you enjoy paperless and less paper clutter, you'll enjoy this. These are paperless coupons. Instead of printing the coupon, you load it onto your store loyalty card. When you scan your loyalty card at the cash register, or give your phone number, you will automatically receive the savings if you've made a qualifying purchase! These are also referred to as "clipless coupons" or "loadable coupons" so they are paperless for you. 🙂
E Offers: Any abbreviation starting with an "e" or "e-" means it's an offer found on the Internet. These are also referred to as "Clipless Coupons" – PAPERLESS! 🙂
EB: Extra Bucks (see ECB)
ECB: Extra Care Bucks (Also known as EB for Extra Bucks). Found at CVS. ECB's that print at the time of your purchase by a separate machine next to the register. These are valid for your next purchase. SAVINGS GUY RECOMMENDATION FOR ECB's: If you know you are going to receive a $5 ECB after your purchase, have a $5+ item in hand and make that as a second purchase. Just tell the cashier you are splitting your purchase in two. Then you can redeem your ECB on the spot and score your instant savings. 🙂
ETS: You might find this listed on a coupon. It stands for Excludes Trial Size! The store cashier will not allow you to use the coupon on trial sizes. Stores will usually lose money by allowing trial sizes on a coupon since trial sizes might be less than the entire coupon dollar value.
EX, EXP or X: Expires or Expiration Date (of a coupon and/or sale).
FAR: Free After Rebate This is when you as a consumer pay cash for the item up front, but in return you'll receive a full rebate back. This will make the item FREE minus any sales tax.
Filler: An item purchased to reach a minimum total in order to obtain a "deal".
Free Items Coupon: You will receive this product at no cost to you. Just redeem the coupon accordingly.
GC: Gift Card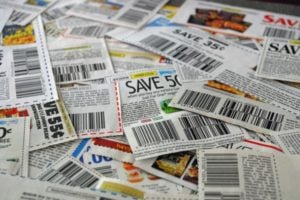 Haul: Total purchases made after taking advantage of awesome sales and stacking them with manufacturer and/or store coupons. Sometimes couponers display the items they recently purchased (haul). Then they either place these items in a photos or videos for others to view how awesome of a shopping day they had. They even include the receipt which includes the product and pricing details. Evidence of such a great shopping haul made by taking advantage of sale based prices and/or coupons.
HTH: Hope That Helps OR Hope This Helps – Kind of self explanatory.
IP: Internet Printed coupon – Kind of self explanatory. You can obtain Internet printed coupons here.
ISO: In Search Of. For instance, someone might be interested in obtaining a coupon so their shorthand or coupon lingo abbreviation would be ISO "x" coupon.
IVC: Instant Value Coupons: IVC's are store coupons found in the Walgreen's weekly circulars (weekly ads). These can also be stacked with a manufacturer coupon to boot for additional savings. This is referred to as "stacking".
MFR or MQ: Manufacturer Coupons – When a manufacturer issues a coupon for you to use on one of their products at the store.
MIR: Mail In Rebate – These are forms that you can complete and submit to a store, company or third party agency listed on the form. Mail In Rebates must be submitted by mail. These are have been around for decades. Used to be more popular decades ago but still common today. These rebates require you to mail your store receipt along with a proof of purchase (i.e. UPC barcodes found on the item) to validate for them you legally and legitimately purchased a product and should be the recipient of a money back reward.
MM: Money Maker – A deal that makes you money. Usually happens when you combine a store sale along with any combination of store coupons, manufacturer coupons, rebates, ECB's and reward program credits. The only thing you sometimes have to pay out of pocket (OOP) would be taxes on the price of the item before such discounts and coupons are applied.
NLA: No Longer Available – Usually refers to a coupon no longer available. Sometimes people in the coupon community communicate via social media and use "NLA" as shorthand for "the coupon is no longer available." Can occasionally refer to a sale is no longer available too.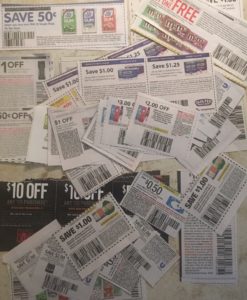 NED: No Expiration Date – When you see this, fall in love with this. 🙂
NP: Newspaper inserts – Mostly manufacturer coupons. Some store coupons. Some store weekly circulars. You can also use our "Weekly Circular Center" which is an online center where we place most of the common store circulars all in one place for you to see what's on sale during a routine basis.
OOP: Out Of Pocket cost – The amount of money you pay at a store when making a store purchase. It's technically the cost to you after coupons, discounts, reward program credits, etc. are applied to a purchase.
Peelies: Coupons you peel from package at time of purchase.
PG: Proctor & Gamble coupon inserts. Usually found in your local weekend newspaper as a coupon insert. Usually inserted on a monthly basis. Not routinely so don't look on a weekly basis. Some name brands include Always, Bounty, Crest, Dawn, Gillette, Olay, Pampers and Tide.
Q: Coupon(s)
QPON or QPONS: Coupon or Coupons
RP: Red Plum coupon inserts. Usually found in your local weekend newspaper as a coupon insert.
RR: Register Rewards – These are printed at the time of purchase by a separate machine next to the register or the register itself. Walgreens is an example of where this is done. There are other stores that have something similar to this.
SC: Store Coupon
SCR: Single Check Rebate – This is a monthly rebate program that is available at your participating Rite Aid drugstore.
SFLSG: The acronym of yours truly: The South Florida Savings Guy 😉
SS: Smart Source coupon inserts. Usually found in your local weekend newspaper as a coupon insert.
Stacking: To double up on your coupons by using both a store coupon along with a manufactured coupon for the same item.
Tearpad: A booklet (otherwise known as a pad) of coupons or refunds usually found by item on sale, on store bulletin board, or by the customer service desk area. Many coupons in these types of booklets you can tear out of the booklet.
TMF: Try Me Free – Rare to find but occasionally you'll find these. Mostly refers to sale based items. Once in a while you might find a coupon that is a freebie offer that might have "Try Me Free" as a headline on the coupon. Rare to find.
UPC: Universal Product Code – A universal code on items available for purchase. They are bar codes that are scanned for pricing and inventory purchases for stores and manufacturers. Also important to the couponing world if you are bargain shopping and want to compare pricing. You can use the UPC to confirm the product is the same one you are looking to purchase.
UFT: Up For Trade – Common lingo for couponers that like to trade coupons. If you are a couponer, instead of discarding coupons you don't like, keep them in a separate pile. Then reach out to other couponers (mostly found in groups via social media and the Internet) and locate what they may be interested in by listing these coupons you don't want as available. Some people sell coupons but that's shady to me as that's technically illegal to do. Don't sell coupons! Trade them with other people that might like what you dislike and they might have coupons they dislike which you might like and be able to save money with.

WAGS: Walgreens Drugstore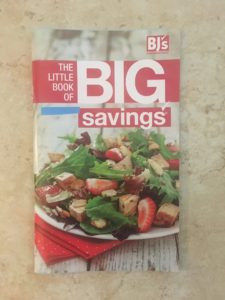 WD: Winn Dixie (supermarket)
WFC: Weekly Flyer Coupons – found in the weekly flyer/circular which contain money saving coupons for you to use. These are considered store coupons. Many stores allow you to also "stack" a store coupon with a manufacturer coupon to allow you to have additional savings. Then the store accepts the manufacturer coupon then submits it to the manufacturer for them to obtain a refund on their end; so it's no money out of the store's pocket when it's all said and done.
WYB: When You Buy – Some offers have a disclaimer such as "When You Buy" this, you will obtain this back. It's also casual lingo amongst some couponers to use as shorthand.
YMMV: Your Miles May Vary – So if you shop at a certain retail store and looking to purchase a clearance item, this item may or may not be available at this store location. This clearance item is a deal that is not advertised in their circular, there is no guarantee that your store will have the same deal. If the item is not available, you may have to travel to another location for this same retail store to obtain this clearance item to purchase. SAVINGS GUY RECOMMENDATION FOR YMMV: If you ever find that an item is not available at one store location, you can always call another location and provide the name of the item. It does help if you have the code on hand. Perhaps do a quick search on your phone with Internet access to obtain a code number. The store rep can possibly look it up in their inventory database to determine if they have it available for you or not. If they have this clearance item available for you, ask them if they can hold onto this at the customer service area for you. This would save you lots of time traveling from one store to another.