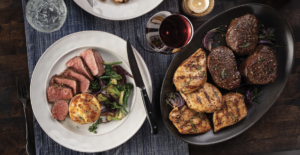 In South Florida all year long it's grilling season! 🙂 When isn't it time for a good steak, burger or something ?
Right now there's a huge sale on Omaha Steaks I wanted to share with you.
The Omaha Steaks Semi-Annual Sale is here and that means BIG savings on favorites like their famously fork-tender filet mignons, bold and beefy New York strips, buttery rich ribeyes, and many more.
Craving their ultra-juicy burgers? Half-off! Plump and juicy steakhouse air-chilled chicken breasts? Half-off! Easy meals? You guessed it – half-off!
Don't wait – shop their Semi-Annual Sale today.
Omaha Steaks has everything you need (including cooking instructions!) for an unforgettable feast. Place your order today and get your "Grill ON!"
About Omaha Steaks:
Omaha Steaks manufactures, markets and distributes a wide variety of premium steaks, red meats and other gourmet foods. Their products are custom cut and packaged to serve the needs of their various markets. They are a family run business that has been since their founding in 1917.
This post may contain references to products and/or services from one or more of our advertisers. We may receive compensation when you click on links to those products and/or services. Click here for more information.