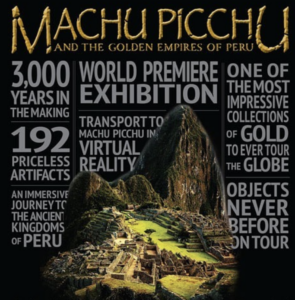 We are happy to announce our partnership with the Boca Raton Museum Of Art!
What does this mean for you in terms of discounts?
You can attend their upcoming event Machu Picchu and the Golden Empires and save $3.00 when you use the discount code MPSavingsguy. This is valid on any Saturday or Sunday viewing of this presentation.
For a limited time only, you can purchase your tickets online and save $5 on weekday tickets! Your discount is reflected in pricing when a weekday is selected without having to select a code.
About Machu Picchu and the Golden Empires of Peru…
Their exhibition took over the entire museum which means that none of the Museum's collection will be on display until 2022. This affords them the opportunity to look closely at some pieces in storage. There is a 3D painting by Larry Rivers which gets its depth through the process of painting on canvas which is then affixed to several layers of foam to add dimension.

The Bottom Line…
The Boca Raton Museum of Art looks forward to having you attend, have fun in their museum again along with saving some additional money on tickets through our partnership with them.
Enjoy their great presentation and have fun locally in the Boca Raton community.
To order your tickets and score your discount, visit their website. Just don't forget to use the discount code MPSavingsguy at the checkout section before paying if you plan to attend during one of their Saturday or Sunday presentations.

This post may contain references to products and/or services from one or more of our advertisers. We may receive compensation when you click on links to those products and/or services. Click here for more information.