KEEP UP WITH H-D® FOOTWEAR…
Be the first to hear about new products, special offers, and discounts when you join the Harley-Davidson Footwear email list.
NO BIRTHDAY GIFTS BUT IF YOU LIKE DISCOUNTS

…

By joining their email club, you will not receive any birthday offers but you will get a 10% discount off of your first full-priced purchase when you sign-up. Plus you'll get to learn of their new styles and sales.

YOUR NEXT STEP IS TO…
Join the Harley -Davidson Footwear email list today and you'll score your discount plus get information about their products and special offers. If you have any questions about their email list or need their customer service team, you can call them at (866) 699-7379.
Here is the Harley-Davidson Footwear dealership location finder for your convenience for the next time you shop at their dealership location. If you prefer shop from home – start shopping on the Harley-Davidson Footwear site. Make sure you use discount codes at their checkout section to save additional money.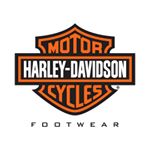 This post may contain references to products and/or services from one or more of our advertisers. We may receive compensation when you click on links to those products and/or services. Click here for more information.