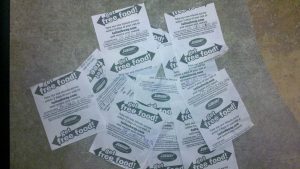 Proof is in the pudding…or in this case, in the cookie! 😉
Not all participate, but there are participating Subway restaurant locations that offer you a FREE cookie.
Just make a purchase, keep your receipt and…
Bring your receipt home with you…
Complete their brief survey which shouldn't take more than 2 to 3 minutes…
Submit your email address…
They will supply you with a validation code…
Write the validation code on the back of your receipt…
Bring it in next time to redeem for your FREE cookie.
As you can tell from the photo above, I've done this a few times in the past! Try like eleven times in a span of 4-5 weeks! 😉 This photo was from a while ago; however, their offering still stands. For participating Subway locations near you, here is their restaurant locator. Score your FREE cookie action after you make a purchase from your local participating Subway restaurant locations.
RECOMMENDATION: Check with your local Subway store location before you visit them or while you place your order to confirm they are participating with this special program. I used to do this for years, but it doesn't mean all Subway restaurant locations participate in this program.
This post may contain references to products and/or services from one or more of our advertisers. We may receive compensation when you click on links to those products and/or services. Click here for more information.