If you enjoy shopping and saving money, try shopping at your local dollar stores. There are plenty of things that you can purchase at the dollar store that will save  you lots of money and time. Included on the bottom of this reading are 15 things you can purchase at The Dollar Tree for $20. 15 items x $1.25 = $18.75 + tax should put you right at the $20 price range.
GREETING CARDS – DON'T BE UNPREPARED ANYMORE…💵🛒
For instance, if you have a Dollar Tree store near you, then you can purchase all the birthday cards you need at one shot. You can usually purchase two cards for ONLY ONE DOLLAR! You can purchase birthday cards for the next two-to-three months in advance and keep an extra two or three birthday cards on hand if you are invited to a party at the last minute but don't have the time to pick up another birthday card. Just look at your calendar of think of all of the people in your life that you would normally purchase a birthday card for and stock up on them in advance.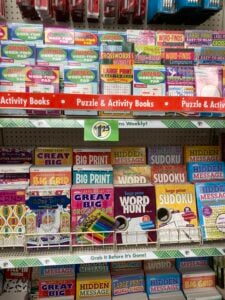 The same can be said for having a bereavement card handy or get well cards. It's the thought that counts. If you have any one of these cards handy in stock at home, you'll be able to save not only time but money and have it available when you need it most. Get a good filing system at home and leave it stashed away for when you need them. Great organizing means you can save money and be prepared.
TIME EQUALS MONEY…
💵🛒
If time equals money, then it's a good idea to have these types of cards on hand. It's one less thing you have to run to the store for later on; especially if you have a hectic schedule.
NAME BRANDS, OR NOT…
💵🛒
If saving money is your end game, don't worry about big name brands. Try it out by buying 1 or 2 items. If it doesn't work out, it's not a huge investment. If it does work in your favor, you'll have a new source with lots of opportunities to order more.
EXPIRATION DATES & BEING PRACTICAL…
💵🛒
Make sure the items you purchase have an expiration date. Food, deodorants, toothpastes all have a shelf life. While the option is there for you to buy these types of items to help you save money, I'm not one for advocating these types of purchases. Anything I have to ingest or use for personal health care might have passed its life span.
Many items could have been obtained in a liquidation sale along with overseas. These items could have been subjected to conditions that would make you think twice about ingesting or using for personal health care. Again, if saving money is your end game, go for it but buyer beware. 💯
15 THINGS YOU CAN PURCHASE AT THE DOLLAR TREE FOR $20 TO HELP YOU SAVE MONEY & ELIMINATE LAST MINUTE PURCHASES….
💵🛒
Here are some great money saving items you can purchase at the Dollar Tree. We narrowed it down to 15 items in no particular order:
Greeting Cards

– 2 for a $1 — Get as many as you need for over the next few months as explained earlier

Gift Bags for Birthday Gifts

— Oh wow – especially wine bags – these are expensive and really handy accessories

Seasonal Decor

— Prepare for the next season in advance, then store these items away for next year
Kitchen & Dining Utensils & Items 

— Garbage bags, tin foil and plastic tins are some of the many finds you can score

Bed & Bath Items

— Bath towels, tissue & toilet paper, sanitizing wipes, shower accessories, cotton balls and pillow cases 

Cleaning Materials 

— Kitchen, bathroom, floor and all-purpose cleaners are available for you

Storage Supplies 

— Storage trays, bins and boxes are great for organizing, new projects or even a new move

Party Supplies – including balloons! 

— Great source for bridal, wedding & baby showers, birthdays, holidays & graduations 

Office & School Supplies

— Working from home or the office, have children with student needs? Game ON! 

Reading Glasses

— Don't skimp out on a good pair of glasses but if you need a generic pair of reading glasses at home, here you go

Hair Accessories

— Brushes, clips, combs and mirrors are some of the great inexpensive finds you can score

Vases for Floral Options

— Birthdays, holidays, anniversaries or "just because" 

Books & Crossword Puzzles 

— Children's books, adult books, fiction, non-fiction, crosswords, word finds

Toys and Games 

— Beach & pool toys, action figures, mini-cars, sporting goods, board games

Novelty Items 

— Coffee mugs, candles and gift baskets
BE AWARE, MANY ITEMS AT THE DOLLAR TREE HAVE INCREASED TO $1.25…
💵🛒
Quite honestly – this absolutely sucks! In late 2021, The Dollar Tree announced they will be increasing the price of most of their sold items from $1.00 up to $1.25.
As a business person, I get they feel the need to increase costs due to heightened expenses they incur.
As a consumer, this might be a horrible decision. First off, the branding of their store name is totally off. It makes me cringe and shake my head even thinking about the branding.
Consumers like you and me think "The Dollar Tree" must have items worth a dollar in there, not more than a dollar. Money doesn't grow on trees but at the Money Tree, I mean Dollar Tree I guess it does! 😇

The real questions is "will I still shop there?" Absolutely – you bet! Just have to be more selective in what to purchase at The Dollar Tree. Their prices are still very reasonable.
SOUTH FLORIDA SAVINGS GUY ADDITIONAL MONEY SAVINGS TIP…
💵🛒
For that ♥ special ♥ love ♥ in your life ♥, spend the extra bucks and get him or her something nice.  Our tips will help you save enough money throughout the year to do the right thing for that ♥ someone ♥ special ♥ for when it counts! Valentine's Day can & should be 24/7/365 – and not just one day…so be creative and remember that special love of your life throughout the year. They'll appreciate the gesture which goes a long way in keeping them happy. 😉
FIND YOUR NEAREST DOLLAR TREE STORE…
💵🛒
Use this Dollar Tree store locator to find a local participating store near you. 
This post may contain references to products and/or services from one or more of our advertisers. We may receive compensation when you click on links to those products and/or services. Click here for more information.