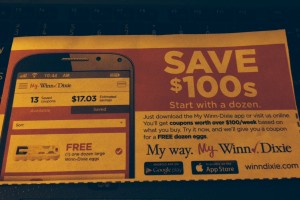 On a rainy day, I went to go check my mail and received The Winn-Dixie weekly ad circular they distribute by mail each week. In the issue, they clearly listed their Winn-Dixie app and website. It indicated it will save you hundreds of dollars. Technology…it helps them gain additional revenue…and you additional savings!
It looks like you can save hundreds of dollars if you download their app. Whether you have an Android or an iPhone, take a few moments to download it onto your phone. If you shop at Winn-Dixie, it will save you money each week when you go grocery shopping.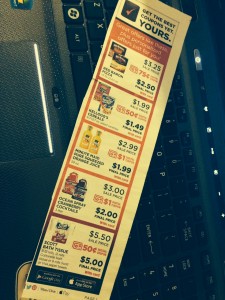 By having easy access to their app on your phone, you can check out their weekly ad dedicated to the Winn-Dixie in your local area, check out their My fuelperks! Rewards program and save money instantly with their digital coupons.
I'm big with cutting out coupons when need be…but also using modern technology if it's going to help me save money. Who brings a pair of scissors with them in the car; outside of coupon experts and hair stylists. 😉
Technology is important to use. It's a part of our daily lives. It helps all of us receive the most current information we are in need of at the moment. It also helps you save money on items you purchase on a routine basis…so be smart and start making your technology save you money at super markets today.
I don't shop at Winn-Dixie on a regular basis, but if you take a few minutes to use modern technology, you can save yourself money instantly each week when you go food shopping. If you forget your coupons at home or in the car, don't worry. It looks like you can score some additional coupons through their app.
Try this with other grocery stores such as Publix and Whole Foods along with other retail stores you shop at. It might help you save additional money without having to search for it through other sources. In this example, you can score some easy quick grocery shopping savings by taking a few minutes to download their app.
When it comes to being a smart consumer, go straight to the source…that being your favorite stores, download apps for your favorite top-5 stores you shop at on a routine basis and start saving extra money. Use your technology to your advantage to save you money.
This post may contain references to products and/or services from one or more of our advertisers. We may receive compensation when you click on links to those products and/or services. Click here for more information.