Here is something cool for all of your basketball fans!
When I signed-up for the NBAStore.com site's newsletter a while back, I received an email 10% discount to celebrate my birthday.
I'm not sure if this offer is provided every year, but you should definitely visit their site and inquire with them if they continue to send a discount code for you to use for your birthday like I received.
Sign-up for the NBAStore.com *newsletter today and make sure you get information on their latest promotions along with potential birthday discount codes like I received. Look for the "sign-up and save 10% off" icon on their page to get started.
* The link I included for you should bring you to the NBAStore.com coupon page. That should provide you with additional savings depending on their promotional offer(s) at the moment.
Start your basketball shopping with the NBAStore.com today!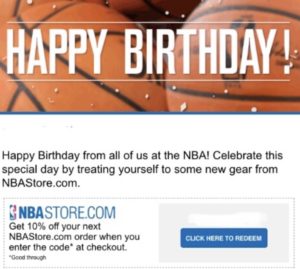 This post may contain references to products and/or services from one or more of our advertisers. We may receive compensation when you click on links to those products and/or services. Click here for more information.