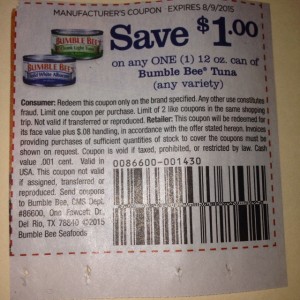 Just a quick heads-up on something I caught in the past and wanted to briefly give you a heads-up on. It deals with coupon specifics!
It's not often I find a Bumble Bee Tuna coupon; but occasionally I'll find these gems in the mail or magazines geared towards women (i.e. such as Family Circle)! I call them "gems" because I enjoy Bumble Bee Tuna. 🙂
In the past I received a coupon in my local newspaper coupon insert for Bumble Bee Tuna. It enabled me to save $1.00 on any one 12 oz. can. The coupon was valid for any variety.
Of all places, I was browsing in my weekend newspaper at some of the stores for sales. I took a look at the Walgreens weekly ad. I came across one of their store coupons for Bumble Bee Chunk White Albacore Tuna. It would save me $ 0.89 cents on one of their 5 oz. cans.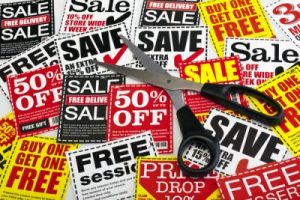 When I went to the store I knew I could purchase a 5 oz. can and a 12 oz. can and use both the store and manufacturer coupons on the respective cans. I have to admit for a moment I thought I was going to stack these coupons together and save $1.00 + $0.89 = $1.89 on one can; meaning I'd probably get a refund on this one purchase; and use the credit towards other purchases I was going to make. Bottom line, make sure the sizes on the manufacturer coupon corresponds to store coupon or sale before you think you are going to score that discount.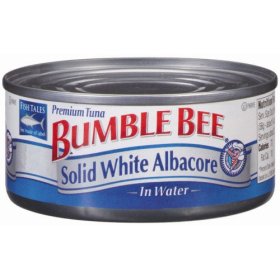 Knowing the same product is on both coupons is great; but you have to make sure it's for the same product and size; or else it won't be valid. It worked for me when I needed to use it because I purchased one of each sized cans and redeemed both coupons. Again, no biggie…but the lesson or tip here is to make sure the product and size are the same on both the coupon you have and the other coupon you plan to stack it against or the store sale.
If you enjoy Bumble Bee Tuna, you can go to a wholesale shopping club such as Costco or BJ's with your membership. Then take a look at their store coupons to see if they have any additional coupon savings. It will help you save additional money if you are buying any Bumble Bee Tuna; or any other product for that matter. You can stack any manufacturer coupon with store coupons to save additional money. Just make sure the product and sizes are the same. Sometimes with wholesale shopping clubs, they sell their products in bulk so the size might be different. It doesn't hurt to submit the coupon to the cashier. Be confident but don't expect anything. Just be happy when it works with no issues. That's being a smart consumer. 🙂
This post may contain references to products and/or services from one or more of our advertisers. We may receive compensation when you click on links to those products and/or services. Click here for more information.