Bed Bath & Beyond has a great selection of home goods. I enjoy their 20% off coupons + their $5 off coupons. It's a special coupon I receive by mail.
When deciding which coupon to use, think about the overall price. The $5 off coupons are usually valid for items $15 or less. So if you have an item that is worth $15 exactly, you would receive a $5 discount and only pay $10. On the other hand, if you used the 20% off coupon the same $15 item, you would only receive a $3 discount and pay $12. Minor stuff for sure…but a few dollars here and a few dollars always helps.
Keep this trick in mind. If it's a $15 item or less, use the $5 off coupon. For anything greater than $15, use their 20% off coupon.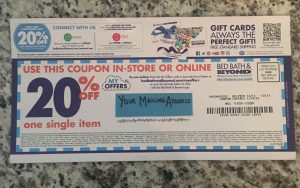 The greatest thing about the Bed Bath & Beyond coupons is they accept them after their expiration date! 🙂 To start receiving their 20% off coupons, sign up to get onto the Bed Bath & Beyond mailing list (or just ask a staff member to help you) and they'll start mailing them to you.
Another suggestion: Keep them in the car whenever you get these in the mail so you never leave home without them! 😉 I keep them in the trunk of my car. You can also receive their coupons via email or on their mobile device.
To find your nearest local participating Bed Bath & Beyond store, use their store locator.
Eat Healthy & Save Money on Produce with the Help of Facebook
This post may contain references to products and/or services from one or more of our advertisers. We may receive compensation when you click on links to those products and/or services. Click here for more information.