You can score additional savings with competitor coupons just by sizing up an opportunity, doing your homework, asking the right questions.
I occasionally receive a few Winn-Dixie coupons in the mail. It doesn't happen all the time, but once in a while I get a nice surprise receiving their coupons in the mail. In the example pictured here, there are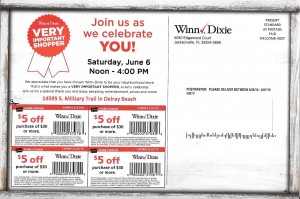 four coupons in total. All the coupons had a $5.00 off purchases of $30.00 or more value.
Since I tend to make a lot of food shopping purchases at Publix, I decided to use one of these Winn Dixie coupons with purchases I was going to make during my next trip to Publix. In addition to using the Winn Dixie supermarket coupon, I also used some manufacturer coupons.
When I presented the coupon to the cashier at Publix, I simply said, "I have a Winn-Dixie coupon I'm redeeming as a competitor coupon." I said those exact words. In return, the cashiers usually understand so it wasn't a big deal; however, sometimes you have to give some guidance to some cashiers that may seem new to their job and the process.
When you get coupons for a super market you normally do not usually shop at, consider bringing them with you to the super market you do shop at and see if they will accept them.
You can go to the customer service section of your super market and simply ask them if they accept competitor coupons. Sometimes there are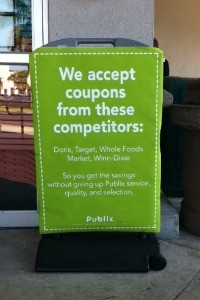 exclusions. For instance, they may not accept an Internet based coupon because those types of coupons are not considered a "direct competition" to the super market you shop at. That's pretty reasonable to understand. Sometimes they might not consider another super market a direct competitor either.
Always ask and be polite with the customer service representative. Be confident but never expect it to work; but in the back of your mind "hope" that it will be accepted.
If you feel as though your competitor coupon should be accepted and it's not, do your homework and go to the website of your super market and look up their FAQ's (Frequently Asked Questions) about using competitor coupons. If you can't find it online, contact the main headquarters and inquiry with their corporate personnel.
*FYI: Some locations may have amendments to this where they don't accept certain competitor coupons. When in doubt, ask your local super market's customer service people or politely ask to speak to a manager and keep your eyes open for competitor coupons! 🙂
This post may contain references to products and/or services from one or more of our advertisers. We may receive compensation when you click on links to those products and/or services. Click here for more information.