The Fresh Market Ultimate Loyalty Experience…
If you love delicious food — and you know you do, join The Fresh Market Ultimate Loyalty Experience. It takes only 30 seconds to sign up and start saving immediately.
Get their latest specials, exclusive offers and go-to recipes, plus info on hot new items and store events in your neighborhood.
Plus when you join, you'll receive a FREE BIRTHDAY CAKE! Make your birthday month even sweeter with a FREE slice of their Ultimate Birthday Cake.
Here is The Fresh Market location finder for your convenience.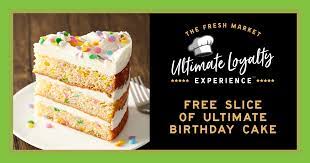 This post may contain references to products and/or services from one or more of our advertisers. We may receive compensation when you click on links to those products and/or services. Click here for more information.