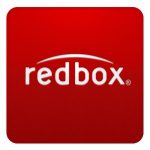 REDBOX DISCOUNTS & FREE MOVIE RENTALS FOR YOU:
If you enjoy home entertainment and like discounts or even FREE movies, you'll love this promotion!
Get onboard with Redbox Text Club and you can possibly score yourself discounted Redbox DVD movie rentals at Redbox.com. Sometimes you might even come across a FREE movie rental text code or even BOGO offer.
In return, you'll receive a promo code that you can use at their site to reserve any DVD for FREE or for a discount with your Redbox app or just go to their site. This offer is only valid with use of your Redbox app or their site. I have done this before. It works.
FYI – I know you can use some promo codes at their kiosks instead of visiting their site; however, I'm not too certain on this one. In the past, I would go to the kiosk, apply the promo code I received from the text and confirmed which Redbox kiosk I was visiting. Once I swiped my credit card (I have on file by using their site) into their kiosk, it worked for me!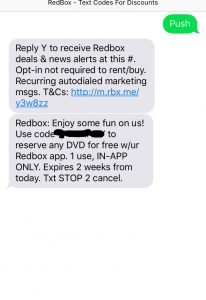 When I sent the text, I received the code. The text I received back mentioned it will expire 2 weeks from today (the day I received my promo code). This is good because you don't have to rush to take advantage of this offer immediately once you receive your promo code.
For Frequently Asked Questions (FAQ's) regarding the Redbox Text Club, here are the Redbox FAQ's. Here is the Redbox locator to find the closest Redbox kiosk near you.
SOME CONSUMER TIPS FOR YOU:
On your smart phone, add the phone number "727272" and type in
"Redbox – Text Codes for Discounts" as the name of the assigned contact. This way you'll never have to remember what their phone number to text them for special deals is again.
If you want to receive Redbox deals & news alerts at the phone number you texted them at, just reply back with the letter "Y".
If you want to stop receiving offers from them via text after you receive the initial deal, then just reply back to them at text the word "STOP" to cancel.
To use your promo code, just…

go to the Redbox site (link provided above for you)…
sign in (or sign up for a Redbox account – it's a fairly quick & simple process)…
select your movie selection…
on the checkout page, do NOT forget to enter your promo code…
near the top, look at your "Payment Summary" and confirm the price reflects $0.00 (if it's a discounted rate but not a freebie promotion, then make sure your proper discount is applied).
pick up your rental and enjoy some free entertainment while you are at it.

I usually try to pick-up my rentals at Publix because most Publix stores in my area have Redbox kiosks and if I need to pick-up any food items for the home front, I can multi-task and go food shopping and pick-up or return the Redbox rental on the same trip.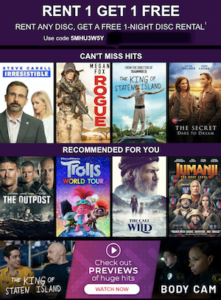 This post may contain references to products and/or services from one or more of our advertisers. We may receive compensation when you click on links to those products and/or services. Click here for more information.