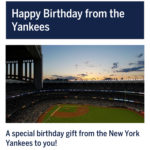 Yes, as in the New York Yankees!
I'm a huge New York Yankees fan. Born in the Bronx. Raised in New York. A New Yorker and Jersey Guy before moving to South Florida many years ago…I'm still a diehard Yankees fan.
I signed-up for their newsletter to get updates about my favorite team. Turns out they also send me emails about discounts for tickets at Yankee Stadium.
Now if I lived in New York or New Jersey, I'd take advantage of some of their discounts. One of my more recent birthdays I received an email on my birthday. It conveyed: "Happy Birthday from the Yankees – A special birthday gift from the New York Yankees to you!" It went on to convey the following: "Because you are a valued Yankees fan, we would like to extend to you a special ticket offer for your birthday. Save up to 50 percent for select games." Then they provided me a unique offer code. There was an eight ticket limit. There were disclaimers involved.
When it's all said and done, if you are a Yankees fan, you should sign-up to receive their newsletter.
Forget the birthday perk…do it because it's your favorite baseball team or should be your favorite baseball team!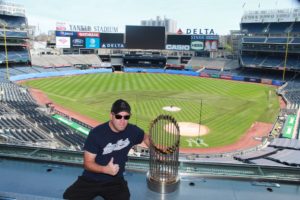 This post may contain references to products and/or services from one or more of our advertisers. We may receive compensation when you click on links to those products and/or services. Click here for more information.