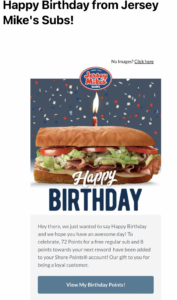 Celebrate with a Sub! Join Jersey Mike's Subs email club & enjoy a FREE birthday sub on them each year.
You will receive an email notification and points on your Jersey Mike's Subs app for your FREE birthday sub when you sign up for their email club.
➡️ CLICK HERE TO SEE ME AT A JERSEY MIKE'S SUBS LOCATION DISCUSSING HOW EASY IT IS TO GET A FREE BIRTHDAY SUB!
Here is an Instagram post with more photos for you to see exactly how easy it is.
In addition, with every sub purchase you make, you'll earn additional points towards another FREE sub of your choice.
Join Jersey Mike's Subs email club today to score your birthday freebie and earn points to score more freebies AND be notified about discounts.
Here is the Jersey Mike's Subs location finder for your convenience.
This post may contain references to products and/or services from one or more of our advertisers. We may receive compensation when you click on links to those products and/or services. Click here for more information.