Want your child's birthday to be as special as possible? Chuck E. Cheese wants it to be.
When you bring your child in within 3 days of their birthday, they'll set them up with a super-secret, super-special birthday treat (hint: it's 20 minutes of All You Can Play).
For their half birthday, your child can come in and receive 100 tickets, for free. And those tickets can be used during the whole month of their half birthday!
In addition, you'll score a FREE personal one-topping pizza on your next visit.
Just sign-up for the Chuck E. Cheese E-Club today to get these perks & freebies for your child.
Here is the Chuck E. Cheese location finder for your convenience.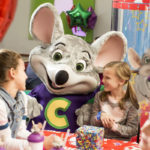 This post may contain references to products and/or services from one or more of our advertisers. We may receive compensation when you click on links to those products and/or services. Click here for more information.