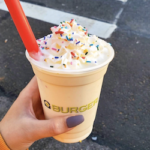 When you join the Burger Fi loyalty rewards program, "BURGERFIEND", you will receive a FREE Birthday Shake! Plus you'll score a lot more great loyalty rewards points redeemable for free purchases later on.
Burger Fi also has great discounts sent to those who are a part of their rewards program. Sync your rewards program with their phone app. Lots of their discounts are dependent on the usage of their phone app. It's worth it! 😉
More information about receiving your FREE birthday shake from Burger Fi: You must have entered your birthday in the "Profile" section of your app. On your birthday, if you have already made a transaction, you will receive your birthday reward. This reward will be valid for 30 days. If you still do not see your reward please contact support@thelevelup.com.
Here is the Burger Fi restaurant location finder for your convenience.

This post may contain references to products and/or services from one or more of our advertisers. We may receive compensation when you click on links to those products and/or services. Click here for more information.