Do you like ice cream and BOGO (Buy One Get One) FREE deals?
There's nothing more fun than to have a cold ice cream on a hot day.
If you're planning to visit a Carvel ice cream shop, you have to go on a "BOGO Wednesday!"
Carvel is offering a middle of the week BOGO deal that you'll find to be perfect deal if you are an ice cream lover and on a budget or like to save some money here and there. Bring a family member. Bring a friend. Bring that someone you really really somewhat sorta maybe kinda like. 😉
Plain and simple – you'll receive two classic soft ice cream sundaes for the price of one – if you go on a Wednesday.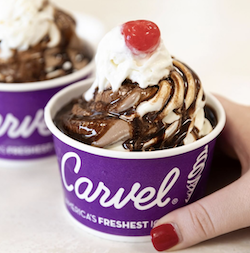 Check with your local Carvel Ice Cream Shop First…
Check with your local Carvel ice cream shop before you head over just to make sure they are participating in this BOGO deal. I don't see why not but some locations might be franchise based locations and they might have the right to opt out of nationwide promotions.
To find your local participating Carvel ice cream shop, here is their ice cream shop location finder for your convenience.
This post may contain references to products and/or services from one or more of our advertisers. We may receive compensation when you click on links to those products and/or services. Click here for more information.