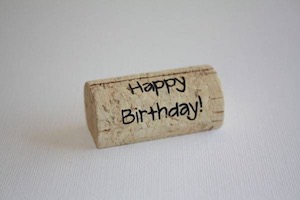 We compiled a great master list of Birthday Perks & Freebies for you to score. Before you go through the hundreds of birthday offers, skim through these strong recommendations. Trust us, it's quick and resourceful!
It will save you time and possibly headaches later.
Trust us, it's quick and resourceful.
It will help you prevent receiving spam emails later.
Take advantage of these even if your birthday passed so you can set this up for your birthday next year!
So Here's the Scenario – Let us Paint the Birthday Picture for You

:

You plan to go out & meet with family, friends, co-workers or even that someone special to celebrate your birthday like the rock stars you are! 🙂

They were probably looking to take care of you (i.e. to pay for you) anyway.

When you sign-up for these birthday perks & freebies, you can give them the corresponding offers.

They'll still take care of you but spend less money. Tell them to sign-up for these to and hopefully they reciprocate for you if you treat them on their birthday.

So Technically You Are Helping Them Save Money on Your Birthday Along With Yourself

:

Pretty cool, right? It's a cool reciprocation thing for you to do!
You are technically 

helping your family, friends and co-workers save money on your own behalf!

You are spending quality time with the people you choose to celebrate your special day with.
You'll still get that 

extra drink, meal, treat or whatever special the birthday perk or freebie is. 

Forward this link to your friends – give them the fun of having the same birthday perks as you!
Sign-Up / Join at Least a Few Weeks Before your Birthday Month:

It's not necessary to do it this far in advance but…
Sometimes there might be a delay in receiving your perk or freebie offer.

You might even have to wait until your birthday arrives the next year; so do this in advance (even if your birthday just passed)
This way you can take advantage of as many great birthday freebies & perks as possible.

There is a long list of these to go through – that's why it's a master list! 🙂
We put a lot of time & effort into helping you score these birthday offers…so don't procrastinate – start signing up for the ones you like.
 Use these birthday offers in good health and don't forget to comment below in the "reply" section & thank us later. 😉
Let's Talk About How These Offers Work:

You will find many offers are valid for the whole month, a week's period of time or only on your birthday.
Some offers you sign-up for will have varying start and expiration dates. View each of these offers carefully when you start receiving them via email.
Some of these might not even be FREE but…hey, they are great perks and discounts for you to take advantage of for your birthday.
STRONG RECOMMENDATION – Before You Submit Your Email Address For Any Of These Birthday Perks & Freebies

…

Create a

separate email address

before you enter to receive the birthday perks & freebies!
Many of these offers may require you to join their respective "clubs", "newsletters", "programs", etc. and that's okay.
Lots of these offers will be contingent on storing your email address in their database.
Check for emails a few weeks to a month before your birthday for your birthday offers.
Hey —- "it is what it is" and you have to understand that's part of the deal from the get-go.

Once you get past the receiving lots of emails aspect — they'll keep you in mind for their special offers throughout the year as well.

There's no logical reason to have additional emails being received from so many different restaurants and stores going to your primary email account…if you really just want their birthday offers, right?
At least when you create a separate email address, you won't have to check this email address all the time.

Just periodically to see if there is a good discount at one of your favorite restaurants and stores that you might routinely visit anyway.  

You have the option of opening or deleting the rest of the emails throughout the year and not have your

primary

 email account's inbox cluttered with emails.

Don't report them as spam though!

You are the one that signed up for their birthday perks & freebies.
Happy Birthday to you in advance and enjoy these discounts! 🙂