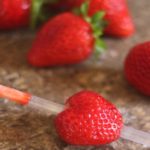 Here is a strawberry hack my friend DJ was kind of enough to share with her son. Scroll down to see it. It's a cute & quick "Facebook Live" video that will demonstrate how to quickly get the top portion of the strawberries out quite effortless.
This hack will be a quick and easy process for you to use for your next party action when you have strawberries on hand…ummm, chocolate too. 😉
VIDEO WATCHING TIP: Scroll down below and hover over the video below to pull up the volume controls so you can unmute it if need be.
DJ is a couponer…with even more skills than I have (ssshhh, don't tell my ego that one) 🙂 and if you want to join her Facebook group on couponing visit her Facebook group page and like her group page to become a part of it. They like to have fun in her group and talk about other great ways to save money with coupons, discounts and freebies.
https://www.facebook.com/1629754206/videos/10214456151830812/
This post may contain references to products and/or services from one or more of our advertisers. We may receive compensation when you click on links to those products and/or services. Click here for more information.