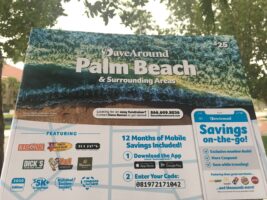 The Save Around Coupon Savings Book Lowdown…
Enjoy saving money on restaurants, shopping, entertainment and travel and more with these Save Around coupon savings books.
I recently became a fan of these and I enjoy them. Who wouldn't enjoy saving money with access to many coupons in one easy soft covered book.
I keep mine Save Around coupon savings book in the car. Whether I'm dining out or stopping off at a store…or doing something entertaining like going to the movies or bowling, I have instant access to discounts through this coupon savings book.
Why You Should Order These Coupon Savings Books…
The most convenient way to get 2-for-1 and up to 50% off discounts and coupons.
Save on the things you love – restaurants, movie tickets, bowling, mini golf, zoos, shopping, travel and more.
There's a book for everyone — choose the coupon book based off of your geographical choice in Florida (scroll down to see the photo with all the Florida books to choose from) or nationwide.
These books save educated consumers such as yourself money all year long.

Take advantage of these great savings today

.
Whether it's for yourself or if you are completing your "perfect gift" theme, here is a great way to purchase a birthday, holiday or special gift that those close to you will appreciate and remember you throughout the year.
This is a great deal for couponers and budgeters.
It's actually an awesome gift for those of you or those you know that are "foodies" and enjoy dining out at new restaurants.
Stock up on these books so the savings of coupons (especially all of those BOGO – Buy One Get One FREE dining coupons).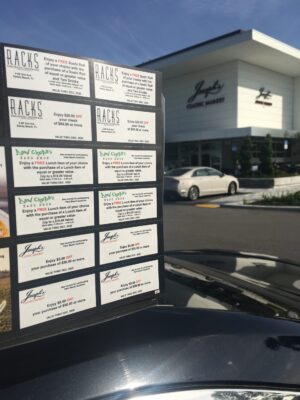 Awesome Consumer Tip:
When you find the Save Around coupon savings book of your choice – under the "ADD TO CART" green/white button you'll find another button labeled "FLIP THRU THE PAGES OF THIS BOOK!"
It will give you a visual of all the coupons that you can have access to buy ordering your coupon savings books. It's a really awesome feature.
Use This Exclusive Link to Receive FREE Shipping When Ordering… 
Purchase your 2020 Save Around coupon savings books today and start saving money throughout the year.
Step 1: Visit the 2020 Save Around coupon savings books site.
Step 2: Locate the coupon savings book based off the state of your choice
Step 3: You'll see a few selections broken down by sections of your state. Choose the area of your preference.
Step 4: At the checkout section enter this exclusive discount promo code SFLSG to receive your FREE shipping on each book prior to entering your payment & ship-to info.

Heads Up: If you are using a device and cannot locate the place to enter the SFLSG coupon code, select the "View Cart" link and you'll find the place to enter your special locations section to apply your discount promo code.

Step 5: Share this deal with your family, friends, neighbors and co-workers. They'll appreciate the discounts! In addition, holiday season is coming up quickly if you want to buy a gift that keeps on giving or in this case…saving others money! 😉