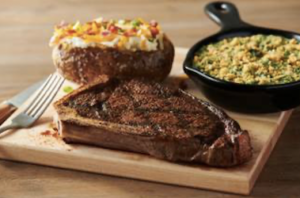 Outback Steakhouse is beefing up their newest menu launch with more options at lower prices. The steakhouse's updated menu features innovative flavors and new dishes, along with past guest favorites to please any steak and food lover's palate.
The restaurant has reintroduced classics including the Aussie Twisted Ribs and Three Cheese Steak Dip, added a new category called Steak 'N Mate Combos that features duo plates like Center-cut Sirloin, Ribeye or Filet paired with Shrimp, Ribs, Chicken or Lobster, while also adding favorite items back on the menu like the Bloomin' Fried Chicken. The dish features a chicken cutlet that is hand-battered in the famous Bloomin' Onion seasoning, fried, then drizzled with the spicy signature bloom sauce, and served with two sides.
The updated menu is easier to navigate and separates Outback's famous steaks by cooking style: Seasoned & Seared, Slow-Roasted, and Char-Grilled, which offers a new thick cut Bone-In NY Strip, full of rich flavor.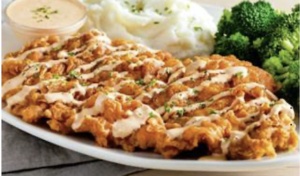 For those with a sweet tooth, Outback has also launched decadent desserts like:
Butter Cake – sweet and rich butter cake topped with strawberries and house-made whipped cream.
Chocolate Fondue Flight – warm chocolate fondue with bites of moist brownie and rich butter cake pieces, fresh seasonal berries and pineapple and house-made whipped cream.
All menu options are available for dine-in seating, take-out, and delivery. For more information on restaurant's hours, specials or to place an order today, visit Outback.com. To find your local participating Outback Steakhouse restaurant, here is the Outback Steakhouse restaurant location finder for your convenience.
This post may contain references to products and/or services from one or more of our advertisers. We may receive compensation when you click on links to those products and/or services. Click here for more information.