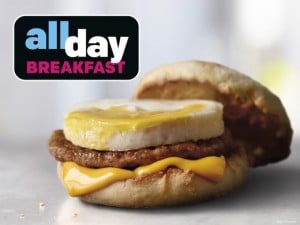 I remember when this first came about a few years ago. People were so happy they could order breakfast at McDonald's 24/7.
I think we take it for granted now but if you feel like you want something quick but not too heavy to eat while on the road, this is a simple reminder that McDonald's serves their hotcakes (pancakes) all day.
SAVINGS TIP: If you order a breakfast meal for lunch or dinner, you'll also save money.
Here is McDonald's All Day Breakfast menu lineup.
So if you have that hunger but don't feel like loading up on a lunch or dinner sized meal, score yourself some hotcakes at your convenience! 😉
This post may contain references to products and/or services from one or more of our advertisers. We may receive compensation when you click on links to those products and/or services. Click here for more information.