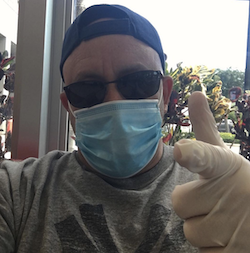 Before we even get into this, these are photos of yours truly. Just want to clarify I do not drive with a mask on; however, before I head out I do put a mask on. If I'm going from one supermarket to another location before heading home, then I'll leave it on if it's a mile or two drive. Hate taking it on and off. So no lectures on not driving with a mask on. 😉
We know how it goes. Wear a mask but how the heck do you prevent the fogging that happens when you are wearing glasses? It can be annoying and downright irritating.
As you know, each time you breathe, the warm air you exhale travels into the mask. From there, they sneak up and over your lenses. Because your lenses are cooler, fog then forms.
So what can you do to prevent this and have less inconveniences with basic essentials of say —- sight?!?
Here are five ways to keep your glasses from fogging while wearing a mask: 😷
Use a Little Soap and Water. It should go a long way toward eliminating unwanted fogging. FYI though: While dish soap typically is recommended, it's important for you to choose a brand which does not use lotion. It can harm the lenses. In addition, lukewarm water also is recommended, as hot water can damage lenses also.
Use Anti-Fog Spray. Sprays can be a big friend to you. They should keep your lenses mist-free. Check on Amazon for anti-fog sprays. For some people it could irritate your eyes, so it may not work for everyone.
Tuck a Small Tissue or Napkin into your Mask. If you do this, it should absorb moisture. Otherwise, it can find its way into your lenses.
Slide your Glasses Further Down your Nose. By simply sliding your glasses a little lower down your nose, you can keep them out of the way of the moist air escaping from the top of the mask. While this probably is not an ideal long-term solution, it should work in a pinch.
Modify your Mask to Better Fit your Face. A mask that fits your face with a tighter snuggly fit should be less likely in producing fog. So, if your mask has a wire inside the top edge, pinch it to your nose.
This post may contain references to products and/or services from one or more of our advertisers. We may receive compensation when you click on links to those products and/or services. Click here for more information.