Guess who went to the Def Leppard, Styx and Tesla concert? I did! 🙂 I've gone to plenty of concerts. Guess who took advantage of a discount to attend? That's right…I did! 🙂
If you like attending concerts, there is no reason why you shouldn't be receiving newsletters from either Groupon or LivingSocial on a daily basis via email. Not every offer they make will be for you. I guarantee that; however, this is a great resource to alert you of some great upcoming discounts that are going to be coming to your local area and an alert for you to go at discounted pricing.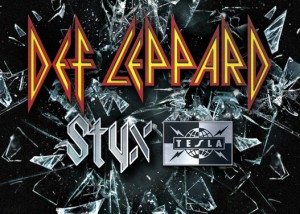 Whether it's our inside scoop or through someone else, if it's something we want to do we take advantage of discounts. Just remember to ignore the deals that aren't for you but keep your eyes peeled for the offer that sounds good. Whether it's with concerts, restaurants, retail shopping, traveling or anything else…ignore what isn't right for you but have a laser focus attention span for something that you would save money with and take advantage of these types of deals.
Amongst many favorite music bands growing up, I'd have to say Def Leppard was my favorite rock group growing up. While enjoying a diversity of great music, listening to great bands such as Def Leppard, Styx and Tesla in concert locally makes me reminisce to a great time in my childhood listening to great music and sharing great times with special people in my life…and to do this at a discounted rate makes me smile today! 🙂
Keep your eyes peeled on discounts through Groupon and LivingSocial and don't forget we promote these types of concert deals on our social media pages such (Facebook and Twitter). This is how you can score concert discounts. The extra money saved will probably go towards a round of beers or food to "Get our Rock n' Roll On!"
This post may contain references to products and/or services from one or more of our advertisers. We may receive compensation when you click on links to those products and/or services. Click here for more information.