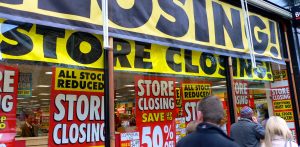 Congratulations to all of us for reaching it to 2018!!! If you are reading this consider yourself lucky! Then again, some companies may not be so lucky in 2018. If you scroll down, you'll find a long list of stores that have announced store closings in 2018. By the way, it doesn't mean all of the locations of each of these stores on this list are closing; just a large enough of a fraction where it might make a difference for you to save money! 😉
CONSUMER TIPS: In the meantime, here are consumer tips on how to score discounts and save money with pending store closings:
Contact your local participating store on this list (scroll down to see the full list) to confirm when and IF they will be closing. You don't want to drive to one of their stores to find out they already closed or they are remaining open!
Gather any credits or gift cards you have and prepare to redeem them at your local participating store while they are still accepting them. Gift cards might be honored but possibly only through a certain time frame. Don't wait too late to use them! They might stop accepting them before they officially close their store locations.
If you have any coupons (both store & manufacturer coupons), keep them in your car and use them ASAP! This can come in really handy when you combine them with any sales.
Scour through your coupon books to see if any are included for the store you are planning to shop at on this list. If so, again, put these coupons in your car and drive over to your local participating store.
Go to their store clearance racks! Many stores have these already in place; even before a possible bankruptcy has been announced.
Make a list of items you can use for yourself.
Make another list of family & friends who you need to purchase a gift for in the next few months. These sales can come in handy; especially for holiday seasons or special events like birthdays, graduations, etc.
For more details about these store closures for 2018, click here to read more about this (presented by Hayley Peterson of Business Insider).
This post may contain references to products and/or services from one or more of our advertisers. We may receive compensation when you click on links to those products and/or services. Click here for more information.