Miami: 1920's Yacht Miami Skyline & Biscayne Bay Cruise
Gift Store (Miami Beach, FL)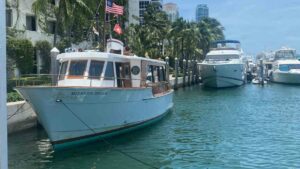 Step aboard the only vintage yacht offering sightseeing cruises from South Beach, Miami. Let your captain guide you around the many islands of Biscayne Bay, where the rich and famous have their homes. See places the bigger cruises don't have access to and enjoy some snacks. Depart from South Beach Marina, where you'll have the chance to see multi-million dollar yachts from up close. Take a laidback boat ride with light tour narration and chill music. Bring your own bottle of wine or champagne to sip on as you admire the views and taste a delicious cheese platter. Take a seat in the polished wood interior or on the outside leisure deck for the most incredible panoramic views of the shore. View the southernmost tip of South Beach, Fisher Island, the Miami Skyline, Downtown Miami, Key Biscayne, and the Port of Miami. Learn how Star Island, San Marco Island, Belle Isle, Grove Isle, Di Lido Island, and Brickell Key were all manmade as development projects, but are now home to some of the world's most wealthy and famous. Finally, see the iconic Flagler Monument built on an otherwise unpopulated island.
Get your discount tickets today and cruise in style from now thru the end of December 30, 2022. 

* This promotion is being offered through GoldStar which promotes discount tickets for local events such as this. If you have any inquiries, please contact them or the event manager of this cruise promotion.
This post may contain references to products and/or services from one or more of our advertisers. We may receive compensation when you click on links to those products and/or services. Click here for more information.