GODIVA…
Admit it…you love you some sweet tooth chocolate action; especially from the top notch chocolatier — Godiva. If you're like me, you are salivating from just thinking about Godiva chocolates! 😉 Start your shopping experience from Godiva.com and take advantage of any of the following discounts when you make a purchase on the Godiva site — if anything is listed below it means it's a special promotion and take advantage of it to save yourself some money and to get your "Chocolate ON!" 😉 PS: These are great gift ideas too!
South Florida Savings Guy Consumer Suggestion…
Sometimes when there is a promotion Godiva.com is offering, they have a minimum spend amount for you to reach. When this happens, bundle your chocolate purchases by considering any birthdays, thank you's, holiday, celebration and special events in advance prior to your chocolate purchases. This way you can combine a bulk order to obtain their minimum spend amount to score their discount.
In addition, don't forget to use their savings "code" shown in the link(s) listed above (if any codes are listed in the links) to score your discount. Just type the same code into the "checkout" section when you are ready to place your order. Standard stuff…enjoy the money you'll save along with your latest sweet tooth action!

Godiva Re-Launched Their Iconic Gold Collection…
GODIVA, the global leader in premium chocolate, recently announced the relaunch of its iconic Gold Collection. The brand's classic Gold Collection has been the hero of its portfolio since the brand was founded in Belgium nearly 100 years ago and continues to be its most popular gifting choice across the globe. This is the first time in almost 15 years that GODIVA has redesigned this collection, which is at the core of the brand's identity. Inside the box, wonder awaits; chocolate lovers will find GODIVA's beloved classic and newer, equally delicious pieces.
What Does This Mean For You?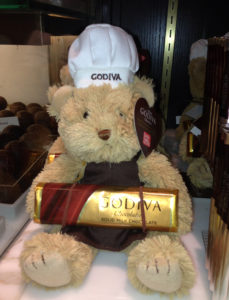 The Gold Collection's sleek new packaging features a single, expressive wave, representing the sensuality of chocolate. The contemporary redesign of its most iconic collection captures the essence of GODIVA's story – a brand that both steeped in history and increasingly top of mind for today's consumers. In each Gold Collection box, GODIVA fans will find an assortment of velvety ganaches, creamy caramels, luscious pralines and delicious nuts and fruits in GODIVA's signature milk, dark and white chocolate.
Personalization is also at the center of this new design, with you having the option to choose the color of their ribbon and add a special message for birthdays, weddings, holidays, or any occasion they'd like to celebrate with GODIVA. This is the latest in customization for this brand, with longstanding opportunities to "make it your own" by building your own arrangements online and in brick and mortar locations.
The line of gold gift boxes is available in a variety of sizes, from 2-piece to 36-piece collections. All are perfect gifts to give, with each box filled with delicious treats, made to be shared with loved ones – or enjoyed yourself– for every special occasion, and to invoke wonder and delight every single day. The seasonally available Gold Collections, including spring and holiday, will incorporate the new signature wave design as well, as we move through the seasons of each year.
The new GODIVA Gold Collection is available now for purchase nationwide in boutiques, cafés and online at GODIVA.com. GODIVA treats can also be found in the chocolate aisle of local grocery and retail stores nationwide. For more information on GODIVA's offerings, please visit GODIVA.com.
This post may contain references to products and/or services from one or more of our advertisers. We may receive compensation when you click on links to those products and/or services. Click here for more information.