Comedian 'Ticked Off' Vic DiBitetto
Boca Black Box (Boca Raton, FL)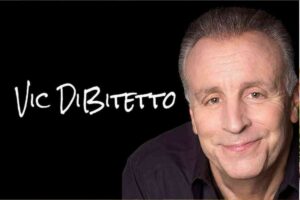 The Italian Hurricane. His pace is frenetic. He holds no hostages. He says what you are thinking but are afraid to say out loud. The bottom line is this: Wear adult diapers if you are going to see Vic DiBitetto perform live. 1.2 million followers on social media. An internet sensation with over 500 million video views worldwide. Regularly featured on the nationally syndicated daytime TV show Right This Minute. Currently the Host of Vic's Picks, a digital TV show for Hearst Digital/Entertainment. Vic has created many viral video characters like Tony Gaga, That Guy, Frankie Pentangelli, Fool by the Pool and Ticked Off Vic. His Yankee and Giant locker room satires are now legendary. And his Bread and Milk video is like a Christmas Carole that comes back on TV, radio and news outlets every time it snows almost anywhere in the world. Trust us. You've never seen anything like Vic DiBitetto on stage. Vic DiBitetto…blue collar comedy in a red sauce.
SOUTH FLORIDA SAVINGS GUY CONSUMER TIP: 
Vic DiBitetto is an amazing comedian. If you know his style, you know how popular he is. If you have a serious interest in seeing him perform live here in South Florida (Boca Raton), order your tickets ASAP! Not only will these dates and times be sold out, the chance to get to see him perform with discounted tickets is even more reason to order your tickets NOW!
DATES, TIMES + DISCOUNTED PRICE PER TICKET:
Friday, Mar 31, 2023 / 8:00pm | $36.50
Saturday, Apr 1, 2023 / 7:00pm | $36.50
Saturday, Apr 1, 2023 / 9:00pm | $36.50
* Discount tickets may be ordered through Goldstar. Any inquiries can be directed to Goldstar. Pricing is subject to change. Available while tickets remain in inventory.  

This post may contain references to products and/or services from one or more of our advertisers. We may receive compensation when you click on links to those products and/or services. Click here for more information.