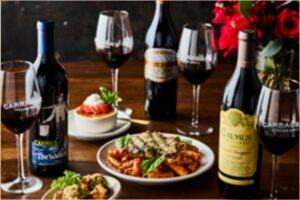 Carrabba's Italian Grill invites guests to an exclusive Caymus Wine Dinner where they will be treated to a night of indulgence featuring some of the best wines from the Wagner family and a decadent four-course lineup of chef-driven cuisine on Tuesday, December 6 starting at 6:30 p.m. for $75 per person.
Here's a preview of the December Caymus Wine Dinner menu:
Four Cheese And Sausage Stuffed Mushrooms with Shrimp
A Combination of Mushrooms stuffed with sausage, spinach, ricotta, parmesan, romano, mozzarella cheese and Italian breadcrumb coated shrimp served over our tomato cream sauce
Caymus Suisun "The Walking Fool": A lush Zinfandel based blend; this wine opens with scents of rustic wood mixed with sweet spice. Featuring flavors of raspberry, subtle tartness of cranberry and notes of espresso.
Rigatoni Al Forno with Chicken: Rigatoni pasta oven-baked with our tomato cream sauce, romano, parmesan, mozzarella and goat cheese and topped with wood-grilled chicken, mozzarella and basil.
Conundrum Red Blend: Much like its name, this blend is a wine of structure, richness and complexity, with aromas of chocolate, cherry pie and toasted oak. Boasts flavors of chocolate  cake and nutmeg.
Filet and Scallop Spiedino with Mashed Potatoes: Our 9oz. Tuscan-Grilled filet prepared with Mr. C's Grill Baste, olive oil and herbs served with sea scallops coated with Italian breadcrumbs and topped with our lemon butter sauce.
Caymus Cabernet Sauvignon: On the nose, this Cabernet Sauvignon has aromas of vanilla blueberry pastry, star anise, eucalyptus, and cedar. On the tongue, blackberry jam, hibiscus black tea, chocolate mousse, and allspice
Crème Brulée: Light vanilla custard crème brulée topped with caramelized sugar, fresh whipped cream and strawberry
Conundrum Red Blend: This wine is so nice, we served it twice. The harmonious blend of Petite Sirah, Zinfandel and Cabernet Sauvignon is the perfect complement to our final course.
For more information and to RSVP, please visit, Carrabbas.com.
This post may contain references to products and/or services from one or more of our advertisers. We may receive compensation when you click on links to those products and/or services. Click here for more information.