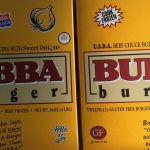 If you like firing up the grill and want to "GET YOUR BURGER ACTION ON!"…here's a great deal for you. I found this deal and use it myself!
12 Gluten Free Burgers for ONLY $17.99
That's Healthy Burgers for you at ONLY $1.50 EACH!
Where Can You Find This Deal?
You can find this deal is available at BJ's Wholesale Club!
COMPARABLE PRICING: I've seen these sold at various places. At Publix, they come in a little bit high for me. They are sold in a box of 6 Gluten Free Burgers for about $12. With BJ's Wholesale Club, you'll get twice as much for only 50% more of the cost instead of 100% of the cost at Publix. It's a big savings!
VARIETY OF PRODUCT CHOICES: While I'm not a big Gluten Free person, I prefer the Sweet Onion Gluten Free Bubba Burgers. They are beef chuck burgers and easy to grill straight from the freezer. You can visit the Bubba Foods site to see the selections they have. Not all might be at BJ's Wholesale Club, but if you like your burger action and you enjoy saving money, then you have to buy your burgers over at BJ's Wholesale Club today.
CONSUMER TIP: So if you want to save money on this deal or deals like this, then I'd suggest you get a membership over at BJ's Wholesale Club today (if you don't already have a membership card) so you can score deals like this tomorrow!
CONSUMER TIP – Ssshhhhh! 😉 Okay, ummm, if you don't shop there much, then ask your family, friends and co-workers if they have a membership and if you can go with them to grab this deal. Just grill a few burgers for them as a thank you! 😉
To find a BJ's Wholesale Club near you, check out their location finder.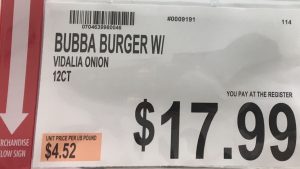 This post may contain references to products and/or services from one or more of our advertisers. We may receive compensation when you click on links to those products and/or services. Click here for more information.