I bought this B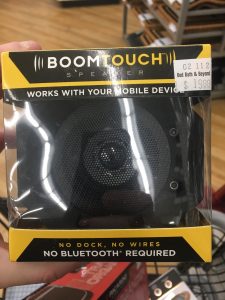 OOMTOUCH™ at Bed Bath & Beyond. It turned out to be a great deal in more ways than one.
The BOOMTOUCH™ is a speaker which amplifies the volume of a song, video or podcast on your favorite device.
For me, my preferred device to use is my iPhone. It's a great way for me to take advantage of this device is when I'm showering. Yeah, you heard me…when I'm showering! 🙂 For those ten minute showers where I'm getting extra heat on some extra aches & pains, I'll listen to a taping of a webinar or quick podcast while I'm getting ready to start the day.
To me, it's an additional ten valuable minutes to gain knowledge and info without having listen to it while I'm multi-tasking doing something else during the day. If you are someone that takes long baths, this is also an option for you. Great if you like to listen to music too; especially if you like to wind down at night time.
Since I purchased this at Bed Bath & Beyond, you know I had to use one of their 20 percent off coupons. So instead of purchasing the BOOMTOUCH™ for $19.99, I only paid $15.99! If you don't have the time to head over to Bed Bath & Beyond, I included a few options I found on Amazon for you. They come in three colors; black, blue & red. Amplify your life with the BOOMTOUCH™ today. 🙂
This post may contain references to products and/or services from one or more of our advertisers. We may receive compensation when you click on links to those products and/or services. Click here for more information.